Web Hosting
So you have your website, but you need to store it somewhere so that the world can view it. We can provide you that home which is secure, fast and reliable, to ensure that your website visitors can always see your site, at lightening speeds.
We offer a comprehensive range of packages, suitable for all types of clients, whether you are looking for a small home your family blog, or a huge home to house your corporate email and e-commerce solutions.
Surf Shack Control Panel
The Surf Shack Control Panel is a free web based environment that allows you to configure all aspects of your web hosting package, with a simple, easy to use interface. You can login and change any of your features when ever you need to, with the changes taking effect in real time.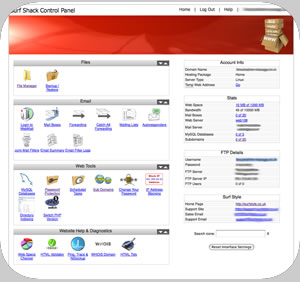 Free One Click Install Software
We offer a wide range of free applications which can be installed onto your server with a single click. Allowing you to get your blog, photo gallery, wiki or CMS driven website up and running in no time. This list of applications includes (among others):
Word Press Blog
Joomla
Mambo CMS
phpBB
Media Wiki
Drupal CMS
Coppermine Photo Gallery